To add product groups, products, and give these products a visual button in your cash register you will first need to log into Backoffice, if you don't want to use the edit mode directly in the cash register. See the article for the edit mode in that case.
Create Product Group
Choose Products -> Product Groups.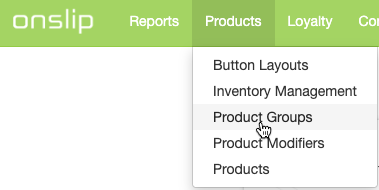 Click Create Product Group.

You will at least need to enter a Name, Product Group Type and VAT Rate. You can also choose if this product group can be discounted or not - especially useful for alcohol. For information about accounts, check our article on chart of accounts.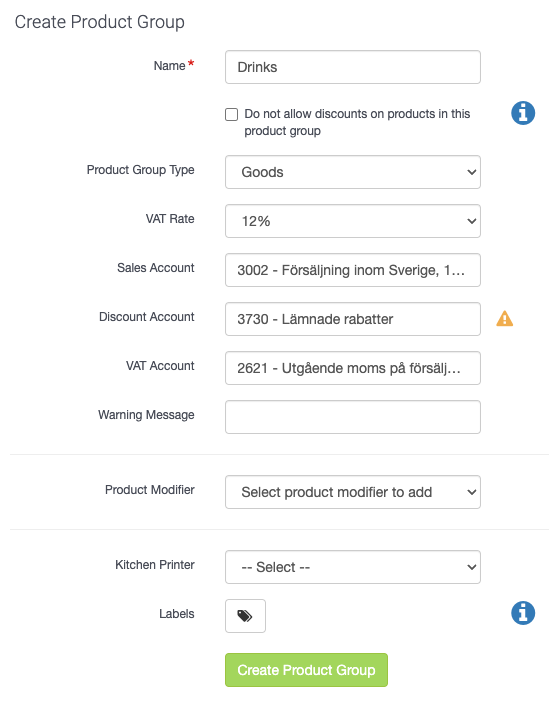 Click Create Product Group when you are satisfied. The group is saved and you can move on to creating more of them.
TIP! For alcohol product groups we recommend you make multiple groups such as Beer, Spirits, Wine, Cider and Fermented beverages instead of one large "Drinks 25%"-group. This will make things much easier for you when bookkeeping and doing the alcohol report.
Create Products
The next step is making a product under this product group. Click Products -> Products in the menu.
Click Create Product on the right hand side.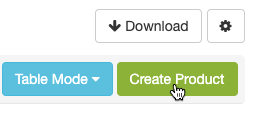 Enter the name of the product and choose what product group it should belong to. If you'd like open pricing, check that option. Open pricing means that the cash register will ask at the sale what the product costs. Otherwise, fill in Sales Price (incl. VAT).
Under the Description tab, you can enter more information about the product. If you have a barcode scanner you enter the barcode into the field Barcode.
Click Create Product when you are satisfied.
Create buttons
Now that we have our product groups, and products, we need to create buttons for the cashier. Click Products -> Button Layouts.