In the new update 1.19 we have added support for gratuity. To configure this, log into Backoffice.
Click Configuration and choose Payment Methods & Gratuity.
Enter the Gratuity tab and make sure Gratuity Handling is on. You can also enter an account for accounting purposes. Click Save when you are done.
In the cash register
Gratuity can be used for any payment method aside from invoice data. Choose which payment method you want to see instructions for.
First call Bambora/Worldline customer service at 010-10 66 000. Give them your organization number and ask them to turn tipping on in your card terminal. There are three variants that can be used. Choose whichever one suits you, all three work with the cash register.
When gratuity is turned on in the cash register and you have downloaded new parameters, it will immediately work.
Charge the customer like normal and choose Card OK to send the amount to the card terminal. Both the cash register and the card terminal will ask about gratuity.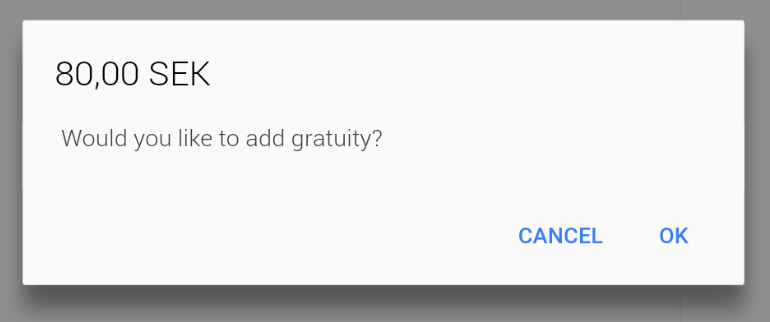 You as the cashier don't have to do anything, the customer can decide on the card terminal if they want to leave a tip and how much.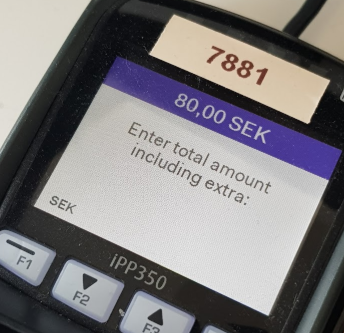 Here is an example of how it might look.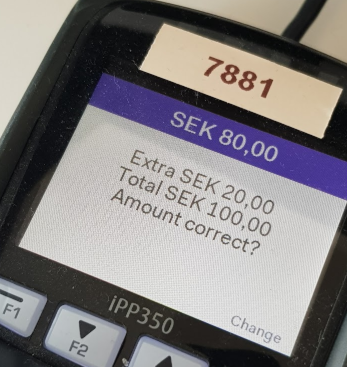 The cash register will automatically notice that the extra amount is a tip.

Choose cash or card (specifically the dark blue buttons in the middle of the screen). The cash register will ask for the amount you have received.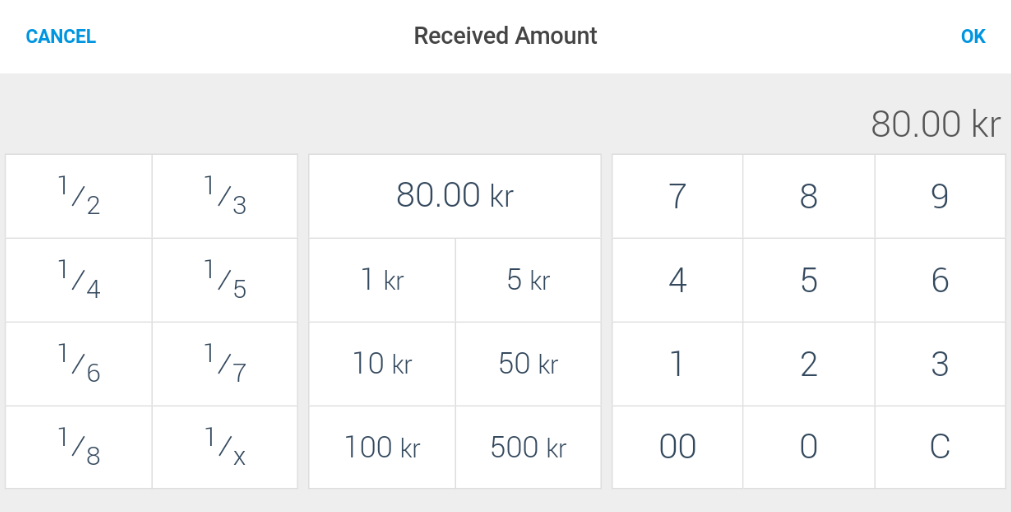 Enter the total amount the customer has paid.
The cash register will first interpret this extra amount as change to customer. To select gratuity, press Switch to Gratuity.

Then press Finish to print the receipt.
Error correction
Purchases with gratuity cannot be refunded in a traditional way if an error correction needs to be made. This is why we have made a new error correction feature that will also refund the gratuity amount. To make such a correction, enter History.
Select the purchase you want to correct. Then press Error Correction.

Information about the correction will be shown. Press OK to move on.

The amount is sent to the terminal and the refund is made when the customer presents their card. After the refund receipts are printed, the original receipt will be put into the tab so you can make the sale again.
Gratuity per cashier
By default the Z Report will show gratuity as a lump sum. If you want to see gratuity per cashier you need to log into Backoffice.
Enter Reports and choose Your Reports.
Customize the Report and check Per Cashier.
Now click Show Report and a new section with gratuity per cashier will be specificed on the report.