The first start
When you start your card terminal it will request a Terminal ID. You will have received this in an e-mail from Verifone. If you have not, you should contact Verifone Support and give them the card terminal's serial number for the next steps.
Eventually, after a few updates, you will need to choose a password for certain roles.
Lastly you will need to enter an admin password, you will receive this from Verifone Support.
When all passwords are done and the card terminal has started you should see the Android start screen. If not, try pressing the circle at the bottom of the screen or swiping up with your finger from the bottom of the screen, or swiping down with your finger from the top of the screen.
Connecting to network
Go to Settings.
Press Network & Internet. Choose Wi-Fi and connect to your Wi-Fi network.
When you are connected to your network, press the circle at the bottom of the screen to close the menus. For T650P, press the house at the bottom of the screen.
Logging in to Onslip
Open the Onslip app. Choose to log in to an existing account. To log in you will need a company alias, user name and password. All of this you will have received in an e-mail from Onslip.
Configure devices
When you have logged in to the app, open the menu in the top left and choose Settings. Choose Devices, then press the three dots in the top right and pick Refresh services. Two rows will display with blue cogwheels, Receipt printer and EMV Terminal, in that order.
Press the blue cogwheel by Receipt printer and turn on Receipt Printer. Now press Close. Lastly, press the blue cogwheel next to EMV Terminal and turn on Payment Terminal. Now press Close. Devices should look like the below image.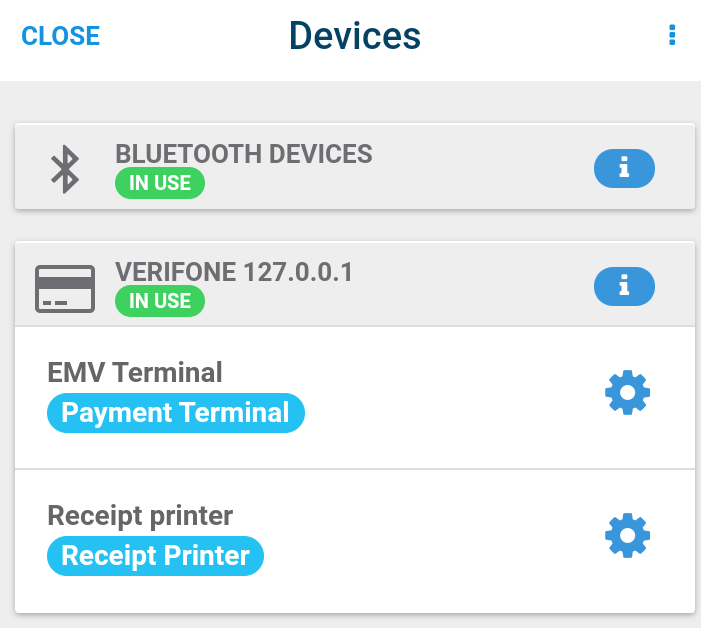 Now close Devices and choose Customize in the settings. Press Connected Payment Terminal and choose the card terminal starting with CM5P or T650P, alternatively Verifone 127.0.0.1, whichever one you find.
You can now close the settings and try a card payment to see that you are successful. An example product has automatically been created for you.
Please be aware you will need to make an end-of-day settlement report both in the Onslip app and in Verifones own app. A settlement will otherwise automatically be made with Verifone every 24 hours.
Now, it is time to create product groups, products and buttons. We recommend you do this in Backoffice, but it can also be done directly in the app. Follow this support article for more help!